Advertise With Us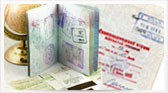 Best Trip Choices is quickly establishing a reputation as the best source of travel and trip planning information. Unlike other Internet travel web sites we blend both scientific and practical applications in order to give our site visitors the type of useful information needed to plan their trips. Best Trip Choices was founded by travel professionals with decades of experience in the travel industry. Coupled to the founding partners are advisors and consultants with impeccable credentials in virtually every aspect of the travel industry.
Best Trip Choices offers advertisers the opportunity to reach our subscriber base; visitors come to Best Trip Choices to plan their next trip. Whether they are looking for travel information, travel bargains, luxury vacations or any of the array of travel services offered, they are planning a trip. We recommend that potential advertisers tour our site, take the Plog Travel Personality Quiz, look at our Destination Information and Destinations Rankings, review travel offers on Tripateria, and look through the Trip Planning Information section.
For more information or to advertise on Best Trip Choices Please call Earl Quenzel or click here to email us.
Earl Quenzel
12801 University Drive
Suites #1, 2 & 3
Fort Myers, Florida 33907
t: 239.226.0040
f: 239.226.1090