Shanghai: Revisiting Old Town
This is about a one-day visit to Shanghai, an ambitious undertaking in a city of 24 million to 25 million. But one can do quite a lot on a well-planned itinerary.
I had attended a travel trade conference in nearby Suzhou, after which the Shanghai Tourism Bureau hosted conference delegates — meaning U.S. travel sellers and travel journalists — for a whirlwind day of activities in Shanghai.
Old Town was first. Nearly 500 years ago, Shanghai built defensive walls around its city center; the walls were knocked down more than 100 years ago, and there is now a circular roadway where the walls once stood.
The region that we call Old Town today is a small portion of the original walled city. In other parts of the historic area, old buildings have been replaced with the modern; still more old housing is targeted for destruction and redevelopment.
As for the protected Old Town, it is a lovely, brightly painted version of traditional Chinese architecture. It provides access to one of China's more famous, formerly private gardens — and lots and lots of shopping. High-rises are visible in the background.
From the parking area for our motorcoach, we crossed the broad Henan Road — clustering around the guide and her flag in hopes of not getting killed in traffic — and passed under a red wooden gate onto Fangbang Road. Once past the gate, we were walking on a street lined with traditional, low-rise shops, generally painted in bright red, offset with black. The shops looked small, numerous and packed with goodies, mostly souvenirs, I suspect.
Turning left onto another wide street (Jiuxiaochang Road) that seemed to have no traffic, except bikes, though there was room for more, we encountered a continuing abundance of stores but the architecture looked more unified as if all shops were part of the same construction project.
From here, our guide took a sharp right and led us into the real heart of the matter, where streets were way too narrow to accommodate cars or vehicles of any kind.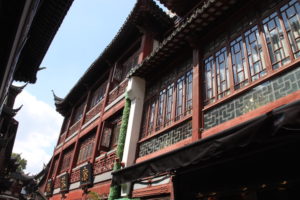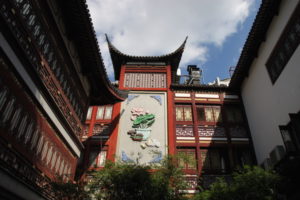 We passed quickly through this mind-bending labyrinth into an open central plaza, largely taken up with a lotus pond crossed by a zigzagged bridge. Our guide said the plaza has no name. It is identified on maps rather generically as the Yuyuan area; it is next to the Yuyuan Garden and, in fact, was once part of that garden.
There is a kind of Disney quality to the buildings here, but that is not a complaint. The architecture was pleasant to look at and very gratifying to photograph on a nice, sunny (and very hot) day in September.
My eyes settled quickly on the Mid-Lake Pavilion Teahouse or Huxinting Teahouse. It is perched on stilts over the lotus pond; a small pristine sampan rested on the water in the foreground. Nice photos!
It was good for me that sightseeing was geared to the first-time visitor, given my only previous visit occurred in 1983. However, I have identified photos of the Mid-Lake Pavilion Teahouse taken on that first trip, when the building was not so prettied up; in fact, in my admittedly old photos, it appears quite dark (see below).
For my 2017 visit, Old Town was a mob scene, which means a portion of my energy was spent just keeping the guide and her flag in sight.
In the plaza with no name, we had to push our way across a bridge with many names, the Zigzag Bridge, aka Nine-Turns Bridge, Bridge of Nine Turnings and Nine-Bends Bridge. The Yuyuan Garden, from the Ming Dynasty (1368-1644), was on the other side.
To my surprise and mild annoyance, the garden was about as crowded as the streets outside. The crowds, BTW, were a mix of Chinese and foreign visitors.
We worked our way through the entry halls where the owner would have entertained his (men) friends, then on to view the ponds, pavilions, rockeries, white walls topped with images of dragons and even huge goldfish in the ponds.
It helps to understand that traditional Chinese gardens paired natural elements — water, rocks, trees and lotus blooms — with the man-made — pavilions, teahouses, bridges, pathways and walls — to create serene environments meant to shield owners from the bustle outside.
A Chinese garden may appear unstructured, but, we were advised, the features are consciously arranged to create a series of scenes that resemble artwork. For the background, the surrounding walls are painted white to suggest the rice paper used by painters.
Once at home, I discovered a 1983 photo taken in Yuyuan Garden that is a near duplicate of a new 2017 photo. Apparently, tour guides have been taking clients to the same spot for photo ops for a very long time!
Back at the square with no name, our group had lunch at an eatery called Lubolang, translated as Green Wave Hall. The restaurant sits in a three-story Chinese pavilion with upturned eaves, nice for photos, too, at least on the outside, not so much on the inside.
Lunch was a kind of banquet, and the choices offered something for every taste. Our group of travel sellers and press also managed to scrape together a few minutes for shopping on the run here. For this, the choices really were abundant!
Walking away from Shanghai's Old Town (but still inside the former walled city), we passed small weathered houses, with laundry hanging outside, now targeted for destruction to make way for the modern. Our guide said she grew up in a home here that already has been knocked down, but the compensation "was good."
These houses, she said, are part of neighborhoods of narrow streets and alleyways known as longtangs; they are the Shanghai equivalent of the more famous Beijing hutongs.
My report is getting long. So, I split this post into two, and the second is at http://besttripchoices.com/my-travel-corner/shanghai-sky-high-views-art-deco-dining/
This blog is by Nadine Godwin, BestTripChoices.com editorial director and contributor to the trade newspaper, Travel Weekly. She also is the author of "Travia: The Ultimate Book of Travel Trivia." Photos are by Nadine Godwin, as well.