Shanghai: Sky-high views, Art Deco dining
My recent all-too-short (one day) visit to Shanghai focused on the oldest section of the city in the morning, then shifted to the modern in the afternoon.
I was traveling with a group of U.S.-based travel sellers who had participated in an industry conference in nearby Suzhou. This was our last full day in China and the Shanghai Tourism Bureau was our host.
After lunch in the Old Town, we headed off for an instructive but very time-consuming outing at the Oriental Pearl Tower, a 1,535-foot TV tower that, at various levels, offers shopping, pop-up entertainment, a museum, indoor roller coaster, a hotel, a revolving restaurant — and the sky-high city sightseeing that was our goal.
Our destination was 863 feet above Shanghai, on a viewing level offering sweeping panoramas of the city. To emphasize the experience of height, the setup on a second viewing level, at 850 feet, allowed us to step onto an enclosed observation platform with a glass floor.
As a point of comparison, the observation deck at One World Trade Center in New York is on three levels starting at about 1,250 feet above the ground but without the glass floor.
The Oriental Pearl visit took two hours, most of that time spent in lines for two airport-security-type checkpoints and for the elevators up and down. It was a sunny September afternoon and, judging by the crowds and the lines, a popular time to visit.
There is a significant fee for entering the tower grounds, but, with its shopping, eateries, game arcades, etc., the Oriental Pearl Tower is an entertainment center as well as a sightseeing attraction.
There were "street entertainers" in the bottom indoor level, for which one pays a premium when entering between 2 and 4 in the afternoon. Also, at the observation levels, there was an entertainer wandering around, playing the clown for photos with visitors. For some reason, he was dressed a la Shakespeare.
Given the number of high-rises in Shanghai, visitors could skip the lines at Oriental Pearl Tower and get similar views from other vantage points. One of our hosts suggested the Ritz-Carlton Shanghai, Pudong. The hotel's Flair restaurant and bar, on the 58th floor, combines city views with afternoon tea or evening cocktails and dinner. Some seating is outdoors, making Flair the self-described highest al fresco dining venue in China.
Maybe this is my alternative next time.
Our itinerary said we would cruise Shanghai's Huangpu River before dinner, but that did not happen. We knew that the afternoon sightseeing was taking longer than expected, but we had been unaware of another factor.
A typhoon had come to town the day before, as a result of which the dock where we would board our ship had been closed the previous day and throughout the daylight hours of our visit. Except for the delayed cruise, the typhoon had no effect our experience of the city.
So, we ate and then went sailing. The dinner site was a grand old structure (a former department store, according to Travel + Leisure magazine) on Jiujiang Road. The eatery was called Xian Qiang Fang, which translates roughly as Delicious Within Walls Building. The Art Deco interior looked like a movie set. Everything in the place seemed oversized and rather grand.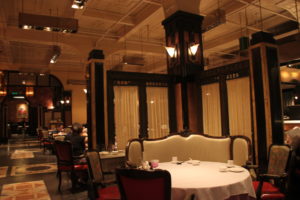 No question, the food and the many choices (a banquet of sorts) were good. Online descriptions of Xian Qiang Fang make reference to Chinese opera and Suzhou folk songs presented for diners' entertainment, but we did not see or hear this.
Xian Qiang Fang is a block or so away from a pedestrian shopping boulevard, Nanjing Road. Before dinner, we had about 30 minutes to walk over for a quick look at some of the stores. Trams, for a nominal charge, carried shoppers and sightseers up and down the road. The trams seemed to come by constantly. I would have found a leisurely daytime visit more rewarding — and probably harder on my plastic.
After dinner, we headed to the dock for our river cruise, in time for impressive views of the illuminated city skyline, including a run alongside the Bund, a famed waterfront area lined with colonial-era buildings.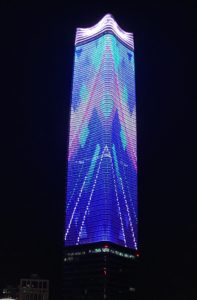 The harbor cruise lasted about 45 minutes.
Then, sadly, it was time to call it quits in Shanghai — for the time being, anyway. I will mention that, when planning for this trip, I was surprised to be handed a visa good for multiple visits over a period of 10 years.
That's an invitation to go back to China.
This blog is by Nadine Godwin, BestTripChoices.com editorial director and contributor to the trade newspaper, Travel Weekly. She also is the author of "Travia: The Ultimate Book of Travel Trivia." Photos are by Nadine Godwin, as well.