Sicily: Medieval Erice
Sicily's hilltop town of Erice is one of those places that has retained much of its medieval appearance, plus it has great views of Sicilian farmland, hills and the sea off Sicily's western coast. Besides, it offers charming hotel choices and numerous restaurants with good food.
The historic heart of Erice sits 2,464 feet above sea level atop Monte San Giuliano and is accessible by car, as well as aboard a cable car from the nearby port city of Trapani.
I booked accommodations (Erice Pietre Antiche), then called the manager, Massimo, from New York for advice on driving routes. He asked for a call (or text or e-mail) a day in advance with an estimated time of arrival. At that point, he would tell us (my two companions and me) where in Erice to meet him and provide directions.
He would be at the appointed location (the Piazza Carmine which abuts Porta Carmine, one of three medieval city gates), help us park for free and then drive us, with luggage, to our accommodations. We weren't permitted to drive further into town, but he could because he does business in Erice.
As for driving to town, he said, "definitely, don't take the SP3," but he judged a second route from Trapani and another from Valderice to be good choices. Ours was the Valderice route. It provided a good road, fortunately, given it involved eight hairpin turns plus other sharp turns — and climbing, climbing, climbing. I could not look down.
As promised, Massimo drove us to our housing, which was a neat two-bedroom apartment. For astonishingly efficient use of space, our kitchenette sat inside an armoire!!
Massimo provided town maps plus restaurant recommendations, after which we hastened to lunch for the best-ever pizza at La Rustichella.
The post-lunch walkabout began at 4 p.m., and we headed straight to the hill town's southeast corner to see the 12th century Norman castle (Castello di Venere), the gardens next to it and views of the shoreline, fields and houses below; those views included the hairpin road we had just traveled.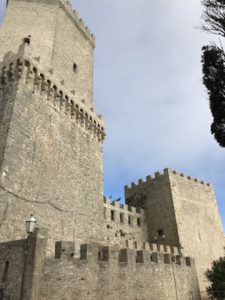 With more time, we could have gone onto the castle grounds to see, besides the castle at close range, the ruins of the ancient Temple of Venus Erycina, a Phoenician house and a Roman bath. Erice has been inhabited a long time!
But, we continued in the effort to see the prime sites of touristic interest while the sun still shone (and we were less likely to get lost). Fortunately, these sites were on the southerly side of this rock, granting us unencumbered light for as long as an October day allowed.
The 14th century cathedral, on Erice's southwest corner, looked weathered and unrefined — my guidebook called it austere — but sat next to a nice campanile.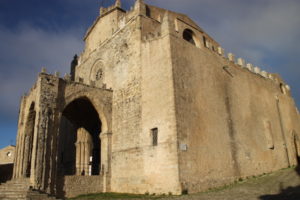 Between the castle and the cathedral, we walked the Viale Conte Pepoli. Here one of my friends bought a small cotton rag rug, in earth tones, for 30 euros. These rugs are a traditional craft in Erice, little did we know.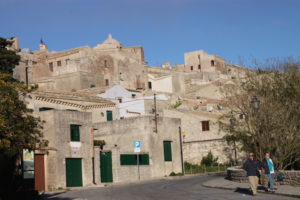 We came to the cathedral by passing through one of the town's gates, the Porta Trapani. A simple affair, it was in surprisingly good condition considering its age.
The gates are part of surviving walls that stretch around the northern and western sides. Per my Eyewitness Travel guidebook, the bottom sections date from the Phoenicians, but the Normans built the top parts and the gates.
Massimo said Erice retains its medieval street layout. After we roamed the narrow streets, I was convinced the stones we walked on were equally old! Stones were smooth from use, but not level. Many of Erice's very low-rise buildings were built of stones that looked awfully old, too.
This was a late-October visit and most Sicilian temperatures were comfortable, but at the higher-altitude Erice, my friends and I were chilly much of the day until we discovered the heaters in our apartment!
Dinner was at an eatery named for Erice's mountain site, Monte San Giuliano. To get there, we descended outdoor steps, walked through courtyards behind several buildings, then into the eatery. Dinner included an appealing pasta we had never heard of; called busiate, it looked something like twisted spaghetti.
After dinner, with the summer peak season past, Erice was Deadsville (though, it should be noted, tourists by the score still make day visits in autumn).
Massimo said there are fewer than 300 year-round residents in the Erice hilltop center, but up to 5,000 in high season when people from Trapani stay at their summer homes. He said there were 5,000 to 6,000 year-round residents 80 years ago.
Departure from Erice early the next day was the mirror image of our arrival. Massimo drove us to our car, after which we retraced our winding arrival journey, eight hairpins and all.
Now we know the mechanics of an Erice visit, we need another — to explore interiors (museums, castle, cathedral), get serious about shopping and get even more serious about whiling away hours in outdoor cafes on the piazzas.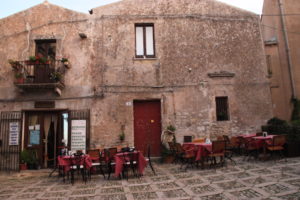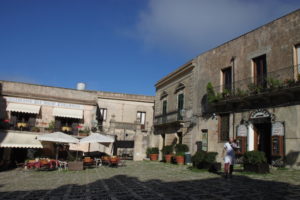 This blog is by Nadine Godwin, BestTripChoices.com editorial director and contributor to the trade newspaper, Travel Weekly. She also is the author of "Travia: The Ultimate Book of Travel Trivia." Photos are by Nadine Godwin, except when otherwise indicated.