Privacy Policy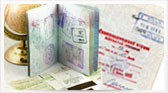 General
BTC respects the privacy of our customers. We will never share your personal information or sell your name without your express approval. We will take every reasonable step to protect the security of information we collect. In the course of collecting research there will be occasions where we obtain and share your feedback on both leisure and business travel to fellow travelers.
However, we only share the research results and not personal information. We may also share your experiences but not any personal information. On occasion if we think you would be interested in travel related information, we may send you materials regarding destinations of interest or information which you "opt-in" to receive.
About Cookies
BTC makes limited use of cookies, a small message that our server receives from your browser. We use these messages to enhance our site for your benefit. The main purpose for cookies is to identify users after they reach our site and in some cases even prepare a customize web page for our visitors. We do not store personal information in cookies nor do we track your activities after leaving out site. You can usually switch off cookies but switching off may impact the effectiveness of your visit.
Log Files
BTC captures information that is statistical in nature for the expressed purpose of analyzing web activity. This data collection is standard industry information and used by BTC staff members only.
Disclaimer
We at BTC will do everything possible to ensure that we provide you with the best information possible for your trip planning. However we provide third party web links as a service that are not under our control and we cannot make any claims as to the accuracy and reliability of the information presented either through advertisements, links, or other content contained on, distributed through, linked, downloaded or accessed from any services related to our website. BTC can make no claim to the accuracy and quality of products purchased, or obtained by you as a result of an advertisement or promotion listed within our website.
You hereby acknowledge that any reliance upon any information presented shall be at your own risk. BTC reserves the right to change, revise and upgrade content and to correct errors and omissions throughout our website at any time. Users of this website shall be governed by the state laws of Pennsylvania.
Legal Disclaimer
We make every effort to preserve and protect your privacy. However, if we are required by law as a result of a subpoena, court order or other legal proceedings, we may need to disclose personal information when it is in our best judgment that such actions are legally required.
Site Policy
It is the policy to provide the most timely and accurate information to subscribers of Best Trip Choices. The travel industry is ever changing and we will do our best to provide you with the most accurate and up-to-date information possible. Please see our Terms and Conditions and Privacy Policy for further information.