Journeyers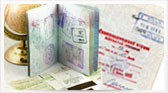 You belong to one of the two largest personality groups on my scale. Three out of ten people share your personality characteristics. You are called an Authentic because of your steady, predictable (authentic) approach to your daily life, and your Journeyer label derives from characteristics you share in common with persons who fit in the center of the personality scale. Your travel interests and daily life are more varied and diverse than either Traditionals or Sightseers. You will fly or drive on a leisure trip, but you generally prefer to go by car or SUV when you can. I'll explain why in a moment, after I cover some of your personality characteristics.
Typically you are one of the most valued employees wherever you work. Your steady nature means that you show up for work on time, every day, and require few sick days off. You know your job well and others turn to you to solve problems. And you have an easy way with people. You like them and they like you. This combination of knowledge, skill, dependability, and good people skills usually results in promotion to more senior supervisory or management positions. You know how to manage people—put the right kind of pressure on them to do their jobs, support them when they need help, but still let them know of your disappointment when they don't live up to your expectations. These traits also carry over to other parts of your life. If you have children in school, you are more likely than average to be involved in the PTA and, in fact, one of the leaders. Or you might play an active role in your church, or help out with Little League or Pop Warner football. Your deep sense of moral commitment leads you to take on these kinds of responsibilities. It's likely that you have some certificates or awards in your desk drawer at home that recognize your contributions from some of the organizations with which you have worked.
You believe that you have a lot of common sense and, the fact is, you usually do. You might have an interest in the latest technology, but you won't consider these new-fangled gadgets until they have proven themselves in the marketplace and have dropped in price to the point where they now seems relatively affordable. And if something you have used for years seems to work well, you feel it's a dumb decision to run out and buy a hi-tech replacement that takes a lot of time to learn and doesn't provide many recognizable benefits. Thus, unless someone gave you a digital camera or a hand-held PDA (personal digital assistant), you might still be using an older point-and-shoot film camera and a hand-written address book. Life moves at a rapid pace so you don't particularly like to complicate it by buying unneeded accessories. Like others with authentic personality characteristics, you probably possess a lot of home-related skills. As a woman, few can match your cooking and sewing abilities. As a man, you can handle most problems on your car or truck, or repair just about anything that goes wrong around the house.
When you shop, you usually stick to popular brands. Their popularity demonstrates that these are good products or they would not have gained such prominence in the marketplace. And these often go on sale, which fits with your common sense notion of never paying more for a product than is necessary. You love sales and faithfully bring double discount coupons to the supermarket to save hard-earned dollars.
Your media interests typically focus on some of the most popular TV shows—sitcoms, and reality-based series. And you probably are an avid sports fan—following the fortunes of a favorite professional or college football and basketball team, especially if it's local or a place from which you graduated. Because there are so many of you and you like the entertainment provided by television, your viewing habits contribute heavily to the success or failure of many shows. You may not take a daily newspaper or subscribe to magazines, preferring to get your U.S. and world information from television and sometimes the Internet.
The characteristics just described also determine your travel interests. As mentioned, you will fly on some trips, but usually this is only when you are going to a family reunion or taking the kids to Disney World or some place similar when time is short and where you want to go is not close by. Generally you'd rather drive because you enjoy getting behind the wheel and don't mind spending extra hours on the road because it provides a sense of relaxation, rather than the hurried schedules that seem to accompany air trips. If you have a camper or trailer, you'll use it a lot. You may like fishing or just being outdoors in a beautiful setting, which are both possible when you drive yourself. Taking the kids to places where they can get out and run without someone showing their displeasure at their exuberance is another reason to have a camper because other people you meet have similar interests. If you choose a more typical destination for a trip, it doesn't bother you if there seems to be a lot of people around. They are just like you—having fun with a spouse or the family and just enjoying the moment. Beach areas and other places that have good weather hold great interest to you. And you especially want them to have acceptable motels if you didn't come in your camper. Family restaurants, movie houses and video arcades for the kids add to the attractiveness of a destination for you. You'd like good shopping to be available also so that you can bring back some reminders of where you've been—hats or shirts with the name of the destination or resort that you visited.
If you decide to take a long distance trip to some place that you have heard about but it seems relatively foreign to you, a good choice would probably be to book an escorted tour. You won't get lost, all the details are handled for you and whoever goes with you to remove much of the frustration, and you'll see much more than if you tried to do it on your own. And tours are relatively inexpensive considering all of the services provided because the tour operators negotiate volume hotel and meal discounts that are not available to the public. Or consider a cruise to a warm locale like the Caribbean. Almost all major cruise lines get very high ratings in the studies I (S. C. Plog) have conducted over the years. They maintain clean ships, the service is good from the staff, and the meals are something to behold.
Because you have broad travel interests (you'll travel by car or by air), you will find destinations that will please you among places preferred by Pioneer and also Voyagers. It's a rather fortunate position for you since more destinations can please your type of person.
Click here to learn which destinations provide the most satisfying vacation experiences.