Best Credit Card for Travelers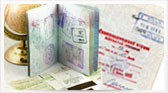 Would you like to travel more and save more? One way to earn free travel, even if you don't travel often, is to earn frequent flyer miles by charging all your purchases on a credit or charge card.
Credit Card Versus Charge Card—What's the Difference?
Credit cards allow users to accumulate debt and pay it off over time with interest. Charge cards, on the other hand, must be paid off in full within 20 to 60 days, a concept Americans have become accustomed to with the use of the American Express card. A charge card forces the consumer to exercise a greater level of fiscal responsibility and is the standard card issued by companies to their business travelers.What Makes a Credit or Charge Card Great?
The most important criteria when choosing a credit or charge card are the type and amount of travel benefits that come with it, specifically in the form of frequent flyer miles or hotel points. The next key requirement for a great card is acceptance. A card that can be used virtually everywhere will trump one that can be used only at select merchants.
So Which Credit Card Is the Best?
Unfortunately, there is no one "best" card, and the savviest travelers intent on maximizing their free travel will carry at least two or three cards. For the infrequent traveler who does not fly very often or the road warrior seeking a credit card rather than a charge card, the Starwood American Express card is excellent. Each dollar charged earns one Starwood point, which can be converted into one frequent flyer mile with virtually all major domestic and international airlines. Even better—you earn 5,000 mile bonuses for transfers in increments of 20,000 miles, so 20,000 transferred points becomes 25,000 miles; 40,000 points becomes 50,000 miles etc. Starwood also offers regular bonus mile opportunities that can significantly increase earning opportunities beyond the "one mile per dollar spent" standard. Starwood points can also be used for free nights in Starwood hotels, a chain that arguably has the best portfolio of properties among all the hotel chains (including Luxury Collection, St. Regis, Westin, W, and Sheraton). Since this card is offered by American Express, acceptance is widespread. And the cost of the Starwood American Express credit card is unusually low relative to other travel credit cards—zero the first year and $45/year thereafter.
For the independent business traveler or company seeking the best charge card offering unlimited charge capability, Diners Card emerges as the champ, for several key reasons:
banked frequent flyer miles that can be transferred on an "as needed" into two major domestic airlines (American and Delta) as well as to a vast number of international airline frequent flyer programs (British Airways, Virgin Atlantic, Thai Airways etc)
regular bonus mile opportunities that can significantly increase earning opportunities beyond the standard "one mile per dollar spent"
primary car rental collision coverage, meaning the credit card company pays all collision damage claims in full (whereas all other cards provide secondary coverage, compensating only what is not covered by your personal auto insurance)
the ability to withdraw cash from any ATM.
The Diners Club card is in fact MasterCard with widespread acceptance. Annual fee is $95/year.
If you believe you should carry at least one Visa credit card, the Alaska Airlines card can be used on a vast range of domestic and international partners including American, Continental, Northwest, British Airways, Cathay Pacific, and Qantas.
Travel Credit Cards that are a Bad Deal
Many banks such as Capital One offer a card in which you accrue points that can be redeemed for a free trip on any airline with no blackout dates. Sounds perfect, right? What they don't tell you in bold print is (a) you must use your points in a certain time period, or else lose them, with no opportunity to extend their validity; (b) the bank is actually purchasing a ticket and imposes a maximum fare above which you have to pay the difference; (c) the points needed are typically much higher than using regular frequent flyer miles; (d) since business or first class tickets are typically very expensive, they are excluded as award offerings; (e) you can only accrue points from using your credit card, whereas airline miles can also be accrued by flying, shopping, hotel stays etc. For all these reasons, such credit card offerings are a poor value.
In conclusion: Credit and charge cards represent the most effective way to boost your free travel at a nominal cost. Top pick is the Starwood American Express card because accumulated points can be used for hotel stays or transferred into virtually every airline's frequent flyer program (with 5,000 mile bonuses for transfers in increments of 20,000 miles). Diners Card is an excellent choice for the road warrior needing an unlimited spending capability and primary car rental coverage. And for those few places that accept only Visa, the Alaska Airlines Visa is your best bet because of Alaska's extensive domestic and international partner network.