Stretching Dollars in Europe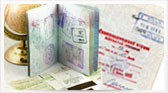 The U.S. dollar is in the dumps, but that doesn't mean you and your trip to Europe have to be in the dumps, too. There are ways to stretch a puny dollar overseas and tourist boards, travel sellers and travel journalists have devoted significant energies to ensuring that you and other prospective travelers get the word. Their pointers, compiled in the list below, may resonate most strongly with Americans but the Canadian dollar, although stronger than in recent years, is in the same position when compared with European currencies.
Most of the best tactics are just common sense, but there are quite a few ideas to keep in mind. It helps to gather them into a single crib sheet for easier trip planning, as follows.
Buy Ahead
Buy as much as possible in advance in dollars, but first determine the kind of trip you want. If you want lots of guided sightseeing, plus better-rated hotels or other comforts, buy a tour package. Or, buy a cruise. You will save money (and you will know most of your costs before leaving home).
If you plan a self-drive trip, rent the car in dollars, too, but don't pay for a car for days you will be in a city center. The gas-guzzler (at today's prices, all vehicles seem like gas guzzlers) won't be worth having in cities with good public transportation and could be a hassle to park. Besides, for example, in Italian cities you could wind up paying nasty fines if you plant that car in the wrong place.
If you prefer trains and expect to ride the rails several times, European rail passes are a good choice. You have to buy them in North America before departure.
You also can get some guaranteed pricing on hotels while preserving some flexibility by choosing plans like the One Fjord Pass, which buys you rights to substantial discounts in a network of apartments, cottages, guest houses and hotels throughout Norway (www.fjord-pass.com/default.asp), or Portugal's Pousadas Passports, a collection of passes that include vouchers for discounted accommodations, car rentals and dining (www.pousadas.pt/historicalhotels/EN/passports/).
Making Choices
You have other decisions to make, too, about where and when to travel and how downscale you are willing to go to keep costs in line.
For the most cost-effective options, consider Portugal and Spain in western Europe, look at Croatia, Poland or any place in the former eastern Europe — or go to Turkey. Or, plan an itinerary outside the major cities, regardless of which country best fulfills your dreams.
Generally speaking, travel is cheaper if you go in the off season, meaning in the winter (except at ski resorts) and it costs most in summer when days are longer, the temperatures are warmer and more people (families, students and teachers) are free to travel.
About going downscale: Travel by bus rather than train. It takes longer but costs considerably less.
Look for B&Bs or budget-chain hotels. Or, for really cheap sleeps, stay in empty dorm rooms or hostels — you don't have to be a backpacker — or in one-star hotels where the bathroom is a shared facility down the hall. Alternatively, if traveling with several people, sleep up to four in a room. Ask the hotelier to roll in extra beds.
You've Arrived
Use public transport to and from the airport. European cities often have train or subway choices. For example, the train in Amsterdam is one-tenth the price of a cab. London's Heathrow has its Heathrow Express (about one-third the cost of a taxi), but the subway, at £4 (about $8), is cheaper, and the National Express bus to downtown London is even cheaper at £2 (about $4).
Visit each city's tourist office in the airport, rail station or at your first opportunity for all manner of advice on cost-effective choices, plus help finding lodging if you have not prebooked. As a bonus, you may also collect discount coupons on activities or attractions.
For each city, figure out your most economic public transport package. Without a plan in London, you could pay $8 for a central London Underground ride covering the distance of a long walk. Cost-saving options include the Oyster Card or London's day Travelcard. Look for transport passes in any city; you can save even in the low-cost places. In Athens, a single ride is only half a euro (about 75 cents), but the unlimited day pass is a remarkable 3 euros (about $4.50).
Or, look for low-cost bicycle rentals. Several cities — including Barcelona, Bergen, Brussels, Lyon, Oslo, Paris, Vienna and more — have them at least part of the year. Several plans require payment of a nominal subscription fee and free usage for 30-minute or 60-minute time periods after which rental fees apply. The rentals are free in Bern, Copenhagen, Helsinki and Zurich, with refundable deposits.
For cash in hand, use an ATM, or carry a prepaid foreign currency card (available from MasterCard in euros and British pounds). Paying for purchases with credit cards is even less expensive, but all these options are better than carrying travelers checks or seeing a money changer at an airport or in a bank.
Hotel breakfasts, if not included in room rates, aren't worth the cost. Eat out. At other meals, skip tourist hot spots and expensive choices; eat where locals eat, and order what they order. Some restaurants, in response to lost tourist business, are offering visitors discounts, but be alert. Those deals still may not be better than prices you get by staying away from popular tourist choices.
Germany's cities have weekly open-air farmers markets with great prices at food stalls; Berlin and Hamburg are noted for currywurst (curry sausage) as low as two euros or $3. Or try the Old Hall Food Market in Helsinki for fish and fruit or the Naschmarkt in Vienna for kasekrainer (Austrian sausage filled with cheese). In Stockholm, look for the dagens lunch (lunch of the day) or dagens ratt (dish of the day).
Drink house wine and tap water; because Europeans habitually drink bottled water, you will have to be explicit that you do not want bottled water. Other tactics include sharing main courses with companions, or buying groceries — at the larger, better-priced grocery stores — and making a picnic on the Seine in Paris, or wherever you are.
Don't overtip. Indeed, don't tip at all for drinks in Britain. In some European eateries, gratuities are included. Ask locals, but not the waiters, for advice on all tipping. Also, for more information on tipping, see BTC's Worldwide Tipping Practices.
For sightseeing, look for the free stuff. Cities all over Europe have free attractions and museums. Other museums have free days.
For attractions with a price tag, cities from Copenhagen and Paris to popular small towns like Cesky Krumlov and Olomouc, Czech Republic, have a tourist card; the card, or pass, for a single discounted price includes a package of attractions or activities and may also cover unlimited public transport. Rome has refined this with several cards that let you focus on your special interests, and Lisbon has added restaurant and shopping cards.
Skip souvenirs and postcards at attraction sites; buy in big department stores where rates are better. And, if you make the occasional larger purchase, get advice at the store on how to recover the value-added taxes when leaving the country.
As with restaurants, some shops are offering discounts to visitors, but those deals still may not offer better prices than you get by buying somewhere other than popular tourist sites.
For entertainment, also look for the free stuff. There are street festivals, beer festivals and wine festivals all over Europe. Also, food festivals, which are another way to get cheap eats — and be entertained. By way of example, Brussels has hundreds of free concerts in association with a spring jazz festival and summer music fest. Vienna has free seating for its outdoor opera film festival.
Look for inexpensive culture, too. Helsinki Philharmonic dress rehearsals cost 2 euros ($3). In Germany, opera and classical concerts are very affordable because they are subsidized by the state.
Plan, Plan, Plan
Of course, head to the Web to research all these possibilities before departure, looking at sites sponsored by tourist offices, travel agencies, tour operators. If you like a specific type of option, such as the Pousadas Passports or any of the numerous city tourist cards, but you have a different destination in mind, look for comparable offerings at your preferred destination. The advice here is suggestive, not exhaustive.
Read comments of other travelers. Head to a bookstore for a guidebook appropriate to the trip you envision. If buying the bulk of the trip in advance, consult with and book with a travel agent, and buy travel insurance. This last point is not about stretching dollars; it is about protecting the ones you are investing.