Tips for Traveling With Children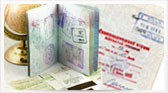 Traveling with children can be a delightful experience or pure misery. It depends somewhat on their ages but most of all on what you do to prepare them for the trip. Here are a few ideas to help make your travels more fun for all. No doubt you'll have ideas of your own to add to this list. We'll start with some general tips that apply regardless of your mode of transportation, and then discuss the special circumstances associated with going by air or by car.
General Tips
Some considerations apply regardless of how you travel. The more you concentrate on these, the greater the chance that everyone will have a great time.
Plan ahead:It might seem obvious, but parents can sometimes overlook the need to do more trip planning than usual when children are along. Think about their special needs from the perspective of their ages, personality differences and sex of each child. Yes, girls are different from boys, even when traveling. Let them know they can't scream or disrupt others around them, they must take care of their own trash, and polite and courteous behavior shows that they are becoming more like adults. The more thought you give in advance to special needs of your kids, the more likely everyone will enjoy the trip.Packing strategically is essential. Make sure you have the items you will need most in a handy bag where you can reach it easily, such as toys and activity items, handy-wipes and snacks. Don't forget to bring a night light to plug into a bathroom outlet. Many hotels don't have them.Also, think about when to travel, and this depends on your children's sleep and activity patterns. It's usually better to begin a trip when everyone has had a good night's sleep, but you may want to consider departing when it's close to nap time if your young children fall asleep easily. They won't be as fussy, at least during the early part of the trip.
Involve the children in trip planning:Whether you are laying out your road trip or setting up your air travel schedule, if your children are old enough to talk, involve them in the planning process. Let them know where you're going, the fun things they can do there (and along the way) and why you've chosen the destination. As much as possible, offer them the chance to make some decisions about places to see and activities they would enjoy. Also, even if your children are quite young, let them pack their own small personal suitcases with a few items they really want to take. Most times, they also would carry or roll these bags themselves, giving them a stronger sense of participation and responsibility. Anticipation of all the fun things they will do at the destination can make children happier and more patient travelers.
Establish the rules for the road:Many parents don't think about this critical element! Talk in advance about what the trip will be like and what they can expect. Let them know they may be bored at times, feel tired and cranky, and might get tired of sitting in their seat whether on an airplane or in the car. But they can't complain, or cry, or otherwise show bad behavior because it would bother other people — passengers on an airplane or family members in the car. If they begin to act contrary to what has been discussed, it's easier to remind them of what everyone talked about and agreed on, rather than trying to establish guidelines as you go along.
Take along plenty of activity items:Most parents are smart enough to know that, because children can get bored easily, they need to take along things for the kids to do. But they may not remember that short attention spans mean several activity items are needed, especially for younger children. Air trips mean choosing fewer and lighter-weight items. Car trips allow you to take more, including some things that can be used when you get to your destination. Some items to consider include:

Coloring books and colored pencils (crayons can melt) for younger children.
Personal small stuffed animals for younger children. These give them a sense of comfort.
Popular board games. Many of these now come in smaller travel versions.
Small action figures from movies or popular TV series and plastic animal sets. –Hand-held games. Most kids already have these and should be reminded to take them.
CD players with headphones so that others aren't disturbed by the sound.
Portable DVD players. These are good for a broad range of ages. Libraries offer free content.
Reading books that are appropriate for each age level.

In addition, as you may recall from your own traveling days as a youngster, some entertainment — word games, guessing games, etc. — won't require you to pack anything special, or at a minimum, paper and pencils.

Don't forget snacks:Having something to snack on can soothe the kids' irritable moods, provide energy to give them a lift and control hunger pangs. Fewer airlines now offer snacks or meals on board, and you may not be close to a restaurant around the time everyone gets hungry. Don't take sugary treats which can get messy if they get squeezed or hot — and you don't want your children on a sugar high, either. Fruit, nuts and whole grain crackers are better choices.

When traveling by air

Each mode of travel has advantages and disadvantages. Air travel is faster and offers a sense of excitement for older children. But it is also more restrictive and confining, and can be difficult if you have hyperactive kids. Flight delays present one of the worst situations. You may not know how long you'll be stuck in the terminal with no place to go, and no airport is truly kid-friendly. You'll face even more misery if the delay happens when you're in the airplane.

When you have your pretrip discussions about good behavior and what to expect, you will want to mention these possibilities, but without making a big deal out of the prospect. In addition, for children who have not been through an airport, describe the security procedures and their purposes. While you are at it, discuss the safety announcement they will hear at the start of each flight. And, just a reminder, if your young children packed carry-on bags, be sure to inspect the contents for items that might be confiscated.

Good trip planning can really pay off, whether or not your flight is delayed or the security procedures are exceptionally slow. Your children will know the rules for good behavior when you're stuck in an airport or on an airplane. And the games, snacks and small stuffed animals can help you get through a bad situation.

Many airlines still have amenities for children — pilot's wings to pin on, coloring books and crayons, and paper and pencil games. You can also ask if they have any playing cards (usually available only in first class, but they'll get them for you) to play simple games with your kids. If you have an infant or a very small child, airline stewardesses (now typically called hostesses or flight attendants) will give them lots of attention. They'll hold them or walk them up and down the aisle to greet other passengers.

Take a collapsible lightweight stroller along for infants for getting around at the airport and at your destination. Alternatively, look at the Ride On Carry On, a device that, when attached to a wheeled carry-on suitcase, converts the suitcase into a travel stroller. The device, when not in use, folds flat and can be stowed overhead on the aircraft. There are other products in the market, as well, that make it easier to carry an infant or to transport diapers, baby food, medications and the like.

When traveling by car

You have more options if you take an auto trip (or if you travel by SUV, minivan, camper or whatever). The trip may take longer, but the flexibility it offers also provides more options. You can take more favorite toys and child-focused games, stop when a child (or adult) feels overly confined and even include some comfort materials like a small pillow to help the youngest children take a nap. But don't forget to do plenty of advance planning, especially when you have younger children. So, here are some tips to think about for that next trip.

Don't rush. Traveling with children takes more time and you'll all be frazzled and unhappy if you don't allow more time to pack, unpack, get in and out of hotel rooms, and especially to make extra stops along the way.
Rules of the road still apply. It's best to write them down after you discuss them with your children. Include such things as don't tease your brother or sister, keep your hands to yourself, use a quiet voice always, clean up your own trash and always try to go to the bathroom whenever you stop, even if you don't feel like it then. Some parents use a reward system. They reserve a roll of dimes for each child. Any infraction takes away a dime. What's left can be spent by the child after arrival at the destination. But, you'd only use this approach if you agree with giving monetary rewards for good behavior.
If any child has never been on a long car ride, be prepared for potential motion sickness. Peppermints, gingerale and saltine crackers are a natural way to tame an upset tummy. Or you may want to carry some motion pills (low dosages for children) in case your youngsters have more severe adjustment problems.
For the youngest children, bring a portable potty. They often can't wait until the next town or highway rest stop.
Try not to stop when an infant is sleeping. It's sure a sure wake-up call, and he or she could be cranky for quite awhile after.
For younger children, it's useful to prepare some wrapped small surprise gifts — one to open each day of the trip. The surprise gives them something to look forward to and a well selected gift will keep them occupied for much of the day.
Infants in backward facing car seats in the rear row of the vehicle can feel isolated and alone. It's best to have someone sit with them, talk to them and keep them entertained.
Everyone needs a rest stop now and then. It depends upon a child's age and personality as to how often this will be. For children up to ages 4 or 5, it usually means a break every two to three hours. And everyone will enjoy the chance to get out and stretch.
You'll probably benefit from stopping at places where children can run, yell and get rid of some of their pent-up energy. That suggests roadside picnics along the highway where they can run and scream without bothering others, finding a community park or visiting a McDonald's or Burger King with outdoor play equipment. Your children may not eat then because they're too excited and involved, but they'll finish the hamburger when you get back in the car and they can now settle in their seats without being fidgety. Bring a Frisbee, rubber balls and other toys that require some running. Adults will enjoy the play also.
Pack snacks to comfort them if they feel hungry, especially healthy ones (fruit, nuts and whole grain crackers). Again, avoid sugary treats and chocolates that will melt and can make children hyperactive. Bring a cooler to keep the snacks fresh and to hold water and healthy drinks for all. Plastic, throw-away cups and plates are a big help.
Many auto stores and variety stores carry folding trays that attach to the front seat. With these, children in the back can have a hard surface on which to color, draw or play the games you brought along.
Try a number of inventive games that you make up as you go along. Each child chooses a car color and counts the number of cars in that color that you pass. Or who will see the greatest number of different farm animals first? Possibilities are only limited by your imagination.

Traveling with children offers an opportunity for pleasant memories if you think about what's needed in advance. Bon voyage!