Traveling Safely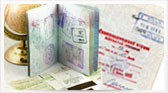 All travel, even down the street from home, involves some risk, but travel overseas can involve considerably more if you aren't well prepared and if you don't use common sense. This applies to a degree even when you go to the world's safest destination if the place is unfamiliar to you and you don't speak the language. In a statistically safe place, your vulnerabilities are not such a big deal unless, say, one night, you unwittingly wander into the safe city's only bad neighborhood. (For more on low-risk choices, see "Safest cities" .)
Numerous other exciting and exotic destinations are a whole lot riskier. That doesn't take them off the tourist map though. For the more adventurous among us, it's worth a few calculated risks to have unforgettable travel experiences.
However, tourists all too often aren't as careful as they should be. In the words of security specialist Peter Tarlow, "They leave home to relax. That means they do stupid things, not intentionally, but they do." Tarlow, president of Tourism & More consulting, teaches courses on the impact of crime and terrorism in the tourism industry. His students include policemen. He tells of a Philadelphia meeting of the International Association of Chiefs of Police, which he attended some years ago. He said that, on his hotel floor, he found 19 doors with keys left in the doorknobs. He then toured the hotel, which was full of high-level cops, and found an average of only two doors per floor with keys removed. It seems just about everyone could use a primer on traveling safely.
The following is such a primer, but don't let it scare you off travel. It covers all kinds of situations including the very risky, so you will judge the appropriateness of each suggestion to your trip. It all depends on where you are going, how well you know your destination and whom you are traveling with. In fact, you should be reassured because knowing your risks and behaving sensibly give you quite a bit of control over your safety.
Planning Ahead
Choose a destination where you believe you can deal with the risks. You may tolerate more risk if you are emotionally attached to a place. Also, take into account the level of sanitation you require for comfort.You may be more cautious if traveling with your children or if you are a woman traveling alone, but a lot more relaxed if you speak the local language or if you are traveling with a group of responsible adults. In general, you are safer traveling with others.
Do your research. Be aware of the crime rates and the types of crime that occur most often at your preferred destination. Get a reading on the destination's standards of policing and standards for health care. Also, get an idea of the locals' attitudes towards tourists. See what the U.S. State Department has to say about the place (http://travel.state.gov/travel and click on A-Z Country Index). Have a look at what some other western governments have to say, too.
Pick a hotel or hotels in the lower-crime areas, in areas with western properties.
Protect valuables. If you can't afford to lose something for financial or sentimental reasons, leave it home. Rather than carry a laptop for e-mail, carry a handheld device you can hide easily. Take faux jewelry, not the real stuff. Also, leave the fanny pack home; it can make you a target because it signals you are a tourist.
Travel with Xeroxes of the inside front pages of your passport, other travel documents and drivers license, plus your doctor's contact information and a list of your medications and allergies. Also, leave copies of documents and the itinerary with someone at home. Then, put all travel documents and meds in your carry-on bag, not the checked luggage.
Travel with some food; include energy bars.
At the Destination
Keep a low profile. Be aware of the dress codes, and dress according to the standards of locals. Forget expensive jewelry or designer clothes. Also, keep your voice down. Besides being polite, a soft voice will keep you from revealing too much information about yourself to strangers. If you are American, don't advertise your citizenship.
Again, protect valuables: Use the hotel safe, and don't carry your passport around. When you go out, carry only the money or plastic you will need. Don't allow a purse to float freely. Put the strap over your shoulder (not over your neck, which could get you killed if someone grabs it vigorously), hold it by the clasp close to your body and put it on the side away from the street. Don't leave a handbag under a seat or over the back of a chair, and certainly don't walk away from the bag. For men, put your billfold in a front pocket wrapped with two rubber bands.If you are in transit, don't leave the passport or other travel documents and money in any vehicle, locked or not. Above all, no possession is worth your life.
Get your bearings. Learn where the U.S. embassy or consulate is located (or the Canadian equivalents if Canadian) as soon as you arrive. Read local newspapers if available in a language you can read—to be aware of news on site.
Rent a cell phone locally if yours does not work overseas. Learn the local emergency numbers, such as the 911 equivalent. Also, learn where to find a doctor, and find out where the nearest pharmacy and hospital are in relation to your hotel. Find out from hotel personnel or local guides where it is and is not safe to go and when or where you absolutely should not strike out on your own. Find out where foods are safe and when meals are served. And ask for advice on which forms of transport are safe to use and when.
Be sensible. Get a good night's rest the first night. When possible, do sightseeing or other activities with others. Don't walk alone at night. Don't take unnecessary risks when pursuing adventurous sports. Don't overdo the alcohol or take drugs that will limit your ability to take care of yourself.
Use ATMs during the business day, and where theft is a special worry, look for ATMs inside commercial establishments.
Enjoy meeting locals in your host country, but be wary when appropriate. Shy away from unexpectedly amorous strangers. If you are alarmed for unclear reasons, listen to those bad vibes. If you face a crisis, stay as calm as possible.
If roads are unsafe, either due to bad conditions or crime, don't rent a car; use the services of a driver and travel by day.
If possible, have a hotel room with a deadbolt. If you are concerned about hotel security, put a suitcase, chair or anything in front of the door that will make noise if disturbed. And finally, take the key out of your hotel room door.
Sources
The above guidelines combine the experiences of the BestTripChoices.com editors and commentary from the following sources:
Sarah Slenker, senior security analyst and watch operations manager, iJet Intelligent Risk System, Annapolis, Md.
Peter Tarlow, president, Tourism & More consulting, College Station, Texas, who makes himself available to readers with questions at tourism@bihs.net.
Travel Weekly, the top trade newspaper in the U.S. for travel sellers.
U.S. State Department Web site.