About Best Trip Choices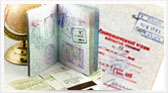 Best Trip Choices (BTC) was formed by two travel industry experts with the goal of providing the most complete and objective information possible to help travelers plan their best trips ever. To get started, take the scientifically validated Plog Travel Personality Quiz to learn about yourself and what kinds of destinations you will probably like the most. When you've completed it, we provide a list of destinations that others with your personality say they especially like.
And we describe those destinations and why you will enjoy them. You'll also find worldwide passport and visa requirements, currency exchange, tipping policies, weather information, government travel alerts and more. And of course, we offer lots of unique travel bargains through links to trusted travel suppliers. So, start planning your best trips ever!
Co-founder Dr. Stanley C. Plog, whose travel personality system forms the basis for Best Trip Choices, was a Harvard-trained researcher with over forty years experience in virtually every segment of the travel industry.  He authored three books on travel and co-authored four in the social sciences. In addition to writing regular columns and numerous articles for academic books, professional journals and trade publications, Dr. Plog frequently lectured at colleges and universities. His work included positioning and branding for destinations and travel companies, helping travel providers and distributors determine core strengths for growth and profitability, and evaluating the effectiveness of advertising and promotional programs. Often referred to as "Dr. Destination," he received the prestigious Alfred E. Koehl Lifetime Achievement Award for travel marketing from the Hospitality Sales & Marketing Association International.
Co-founder Bahir Browsh has worked broadly across the travel industry during his 35 year career. While earning his degree in electrical engineering from Temple University, he began in the reservations department of Trans World Airlines and progressed through a series of managerial and entrepreneurial positions. At TWA, his responsibilities through the years included directing its tour operations (Getaway Vacations), the frequent flyer program, its call centers, Customer Service and Consumer Affairs, and even the airline's lost and found operations at all airports. He was part of the executive staff that planned and launched The Travel Channel, and  later guided the leveraged buyout of a travel company that combined Internet channels with a traditional "brick and mortar" retail travel agency. More recently, Mr. Browsh has served as a very senior consultant to travel industry companies.
Our mission is to be the most trusted name in travel. Actions speak louder than words so tour our site. We'll continue to evolve along with the ever-changing travel industry, and if there's something you would like to see on our site, contact us and let us know.
And don't forget, if you like what you find here, mention our site to a friend. They'll be glad you did.