Mexico: Ajijic and its paint jobs
When I arrived at the Santiago, Chile, airport nearly a year ago, I was witness to a scam. Men with fake IDs claimed to be cab drivers, led arriving passengers to their cars and charged two to three times the normal fare to downtown Santiago.
Officials from TurismoChile and the Santiago airport are well aware of the issue and striving for solutions. (Also, for those of us who visit, avoiding the scam is a lot easier if we know that the problem exists.)
Later, I was also witness to a brilliant cure for this problem at the airport in Guadalajara, Mexico. When I arrived in June, I needed a transfer to Ajijic, a town about 30 minutes' drive away. I picked up my checked bag and, while still inside the baggage claim area, I found an official taxi desk. I paid for a voucher (set price to Ajijic: 420 pesos/$22-$23 dollars when I visited). Beyond the baggage claim area and near the building's exit, there was another official taxi desk.
Once outside the building, I walked to the cab line and the dispatcher directed me to a driver, who spoke English (this would not always be the case). The driver took the voucher, loaded my bags and we were off. I tipped the driver at trip's end.
My destination
I was visiting Ajijic, a small town south of Guadalajara, because a friend lives there. It is 5,000-plus feet above sea level with a semi-desert climate and is one of several towns on the shores of Lake Chalapa, Mexico's largest freshwater lake, and surrounded by the Sierra Madre Mountains. Those characteristics — comfortable climate and lake views — go far to explain why Ajijic and neighboring towns count among their residents thousands of American and Canadian ex-pats, many of whom are retirees.
Immediately noticeable, streets in Ajijic are awfully bumpy. I gather real estate agents call the surfaces "charming cobblestones" — actually, they are cobblestones, but look for the charm elsewhere (see the photos!).
On the other hand, if trees are located where a road is meant to go, workers don't cut the trees down. The trees are saved and the roads go around them! That seems very humane to me. Probably wise, too, to preserve shade and prevent erosion.
Residential streets are lined with walled villas, sometimes painted quite creatively, but those walls offer little info about what the houses look like.
Speaking of paint jobs: Building exteriors, very visible in the commercial heart of town, are nothing like the generally discreet or earthy tones back home.
My hostess took me on an ad hoc driving tour on the small streets near the town center. I loved seeing and photographing the colorful houses and shops lining those streets; the cafes and other buildings on the central square were attention grabbers, too. Wall art, murals and the like were abundant, as was the graffiti.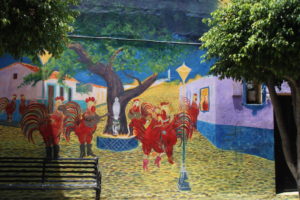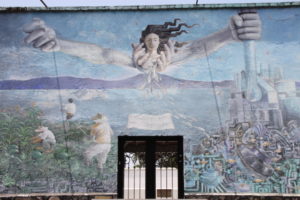 Mealtime settings tended to be scenic, and eateries generally offered indoor/outdoor options.
On day one, we lunched at the restaurant inside a boutique hotel, La Nueva Posada, on Lake Chalapa, gazing across the water with the Sierra Madre looming hazily in the background. The interior fixings were as colorful as those bright exterior paint jobs I've been exclaiming over.
At the next day's lunch site, Jardin Plaza Restaurant, we sat outside with views of idiosyncratic sculptures in the town's central square, exterior wall art and a lineup of vivid paintings, no doubt for sale. Even a nearby tree was turned into art, day-of-the-dead style.
The souvenirs, too, advertised themselves with a lot of flash. I bought a plate (blue, gold, rust/geometric design), then a small bowl (blue, green, yellow/floral motifs), that I did not need — but don't regret.
The exuberant colors are what pop into my mind first when remembering this Mexican sojourn. I realize the bright and often-artistic paint jobs are not unique to Ajijic, but I don't often visit Mexico.
These were lazy days in Ajijic, touristic in fits and starts. But I was happy to join a coach trip to Guadalajara, about an hour's drive each way, to hear a concert in the Teatro Degollado. It faces the large Plaza de la Liberacion with the cathedral at the other end.
I flew into super-tourist mode for a quick photographic turn, fortunately under great light and clear skies, to get shots of the cathedral and the plaza, with fountain, in front of it. Of course, this just barely counts as a visit to Guadalajara, but at least I snatched a glimpse.
This blog and its photos are by Nadine Godwin, BestTripChoices.com editorial director and contributor to the trade newspaper, Travel Weekly. She also is the author of "Travia: The Ultimate Book of Travel Trivia."