Georgia: Black wine, polyphonic sounds
Some travel experiences leave a warm glow long after the event, and an evening spent in Georgian wine country last fall is in that category. The setting was a cozy restaurant in a hill town named Sighnaghi, and the after-dark hours spent there involved dinner, a wine tasting and an extended session of traditional Georgian polyphonic singing.
That's the truncated description. Now, I will take this from the top, as follows:
I traveled with several travel agents and one other journalist on a familiarization trip to Georgia, the country. The itinerary included an excursion to Kakheti, the country's top winemaking region, east of Tbilisi, and Sighnaghi is there.
We first walked through the village, home to about 3,000 people, with houses mostly from the 17th and 18th centuries. One host said Sighnaghi is "called the city of love because of its beauty," and it certainly is striking. But the most noticeable feature is the near-vertical nature of the streets! At one square, we noted an apparently standard way of getting around — on what look like four-wheel scooters.
With the sun setting rapidly, we walked — up a steep hill, of course — to Pheasant's Tears, a winery that produces artisanal natural wines using ancient Georgian traditions. It also provides some restaurant services; we sat at a single long table and were the only guests. The singers — a male quartet — shared the table, food and wine with us.
The winery and restaurant owners are American John Wurdeman and his Georgian wife, but they were not present. In their stead, Donovan Arthen, an American polyphonic singer turned wine importer, acted as the host. Arthen said he would be in Georgia seven months, learning more about Georgian wines.
Food: The opening plates for our meal included cheeses, salad, eggplant, beets, beans, greens, spicy chicken and fries. Some dishes were prepared using ground walnuts, a typical Georgian food ingredient.
The meal included foraged mushrooms, using the caps, cooked with herbs and in butter or some kind of oil, but without the cheese at the center that some Georgian cooks include. The menu of several courses included meat, as well.
Donovan said a meal like ours with many courses would be less than $20.
Wine: First, know that Georgia — which counts more than 500 indigenous grape varieties — claims to be the place where winemaking was born around 8,000 years ago although some scholars credit other locations in the vicinity.
Regardless of who got to the starting line first, winemaking, using millennia-old methods, is alive and well in Georgia.
Making wines the traditional way involves aging the crushed grapes with their seeds and skins in clay jars buried in the ground for about nine months. The jars are called qvevri, or kvevri, which is why the wine is also called qvevri. The reds are so dark Georgians call them black.
In my experience, Georgia's traditional wines vary widely, from the dry and smooth tastes westerners appreciate to something that is indescribably odd.
At Pheasant's Tears, we tasted four wines, all in the former category. The grape names are mostly unfamiliar to westerners, but this is what we tasted:
Chinuri, a white, called a royal wine for being favored by royals; a Rkatsiteli, a "foremost" white, Donovan said; a Tavkveri, a light red, and a Saperavi, a "foremost" red. This was a black one, and it was my favorite.
Music: Any of us may recall evenings with fantastic food and wine enjoyed with a group and embraced by a warm setting, but this event rose to another level because our entertainers joined us at the dinner table. They sang generally between courses and well into the evening after most eating was done.
They are polyphonic singers, polyphonic meaning "many voices." However, this music is not like the familiar many voices of, say, a barbershop quartet or church choir. It sounds as if the multiple simultaneous melodies are totally independent of one another although the encyclopedia tells me they are related.
The quartet sang a selection of Georgian songs, but toward the end of the evening, they sang familiar tunes, too, but presented in the polyphonic style. It was a fascinating take on familiar sounds. Oddly, the experience was all the more satisfying as we listened and continued sipping wine against the background noises of a driving rain outside.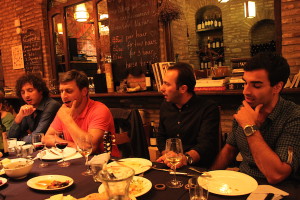 It is almost heartbreaking when such evenings must come to an end. We enjoyed a community experience that occurs spontaneously and is hard to replicate.
A final note: I have included a few still photos, but our group included Michal Shapiro, a video journalist who specializes in music. Her video, seen above, does a super job of providing more information about the music we heard that night in Georgia, and it better conveys the whole of our environment at Pheasant's Tears. A longer video, for those who want more information on Georgia, appears below.

This blog and photos are by Nadine Godwin, BestTripChoices.com editorial director and contributor to the trade newspaper, Travel Weekly. She also is the author of "Travia: The Ultimate Book of Travel Trivia." Michal Shapiro is a musician, producer, journalist and videoblogger specializing in international music and culture.  She has produced numerous critically acclaimed world music CDs. Her videos, which she shoots and edits herself, can seen on Huffington Post, and on her own site, http://worldmusicandculture.com