Germany: Now about that Onion Festival
There are a lot of onions at a festival that celebrates the onion.
So, I suppose it sounds a bit odd when I say I thought I would see even more at the Onion Festival in Weimar, Germany, this past fall.
There were countless stands displaying and selling onion strings, or onion-and-garlic strings. Some also sold decorative sprays that included onions in the mix and some sold little dolls in which onions were a component.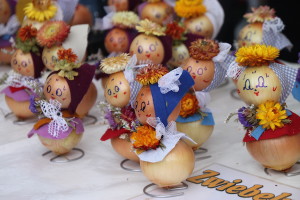 Dolls made with onions.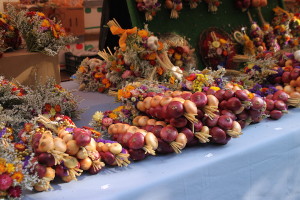 Onions on strings, good for hanging on a wall.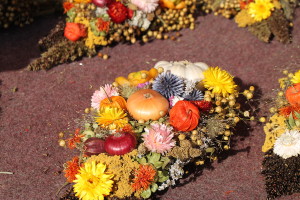 Onions in a kind of floral spray.
The event featured a healthy supply of food stands, but I did not see stands selling foods specifically emphasizing onions as an ingredient. I mean, I can buy onion bread in my neighborhood in New York. At an eponymously named festival, I even thought there might be the outrageous, such as, say, onion cookies or something.
This did not constitute a great disappointment. It just seemed there were some lost opportunities.
But, about the food stands, some were decked out to look medieval — as were the vendors — selling food, especially pork, plus a lot of beer.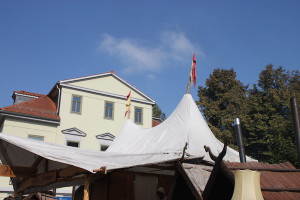 Vendor rooftop with a medieval look.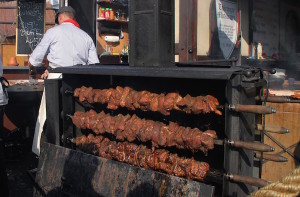 Vendors offered lots of meat, especially pork.
I tried something called the gefullte hanfbrote, which translates roughly as stuffed bread. It was new to me. It looked like pita bread, except this bread was darker and much more substantial. It was filled with a turkey mixture plus beans and mushrooms, a really big "bag" of food, all for six euros.
As with lots of festivals, regardless of theme, this one made space and time for numerous entertainers, mostly of the musical kind. Music genres ranged widely from Irish to a rather schmaltzy pop variety to rap!
A friend and I fashioned our itinerary in Germany this autumn to make the Weimar visit coincide with the Onion Festival.
I had seen Weimar in 2011 on a press trip, and I recall our guide saying that much of the central market square (Marktplatz) had been rebuilt after World War II. Beyond that, I don't know how much of the city's features are post-war reconstructions or maybe just beneficiaries of major repairs.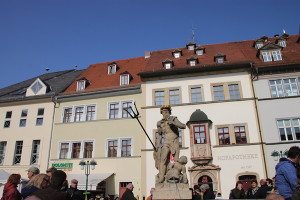 Weimar's central market square.
In any case, I already knew Weimar to be pleasant to look at. That pleasure includes a few reminders of the time when the 20th century Bauhaus architectural movement was based in Weimar.
We spent some time in the small and informative Bauhaus Museum, even with the Onion Festival in full swing on the Theatreplatz just outside the front door.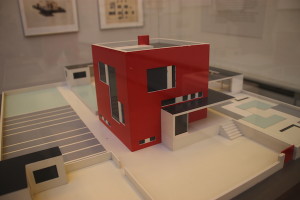 Model of Bauhaus house design.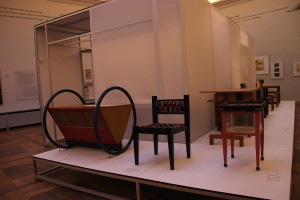 Bauhaus furniture, including a cradle at left.
We also spent nearly two hours at the Goethe National Museum, which is the house where the writer Johann Wolfgang Goethe lived for nearly 50 years. The house is a surprisingly big place (the man was richer than I realized) stuffed with his collections of books, artwork and more. Many of the furnishings are original and the place is said to look much as it did when Goethe died. There is a substantial garden as well.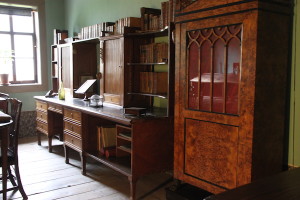 Goethe's office, in his former home.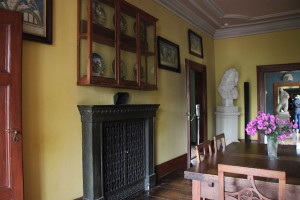 Dining space in the former Goethe home.
The Onion Festival was concentrated in the central squares where these and other top tourist attractions are located so, yes, it was easy to combine typical tourism with a festival visit. However, the squares and streets were jammed, the more so as each day progressed — and more out-of-towners arrived.
We were staying in nearby Erfurt. Amusingly, as we walked back to the train station each day, we were moving against the traffic. Mobs of people were walking toward the festival, some clearly headed to the beer stands. Judging by the look of the trains, the partying had already started!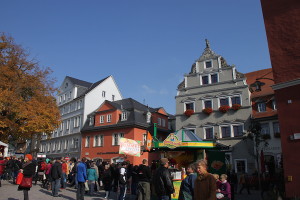 Festival goers on the streets of Weimar.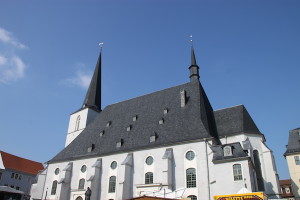 The beautiful Herder Church in central Weimar.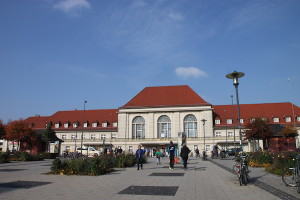 The Weimar train station, important to so many!
One of many amusing balloons at the festival.
This blog and photos are by Nadine Godwin, BestTripChoices.com editorial director and contributor to the trade newspaper, Travel Weekly. She also is the author of "Travia: The Ultimate Book of Travel Trivia."